Apple Cuts Education Pricing on Non-Retina 13-Inch MacBook Pro, Now Starts at $999
Alongside today's introduction of a new stripped-down 16 GB iPod touch, Apple has also reduced pricing for educational customers on its 13-inch non-Retina MacBook Pro. The prices have been cut by $100 for both the low-end and high-end stock configurations, bringing pricing down to $999 and $1299 respectively. The new prices on both models are $200 below Apple's standard retail pricing.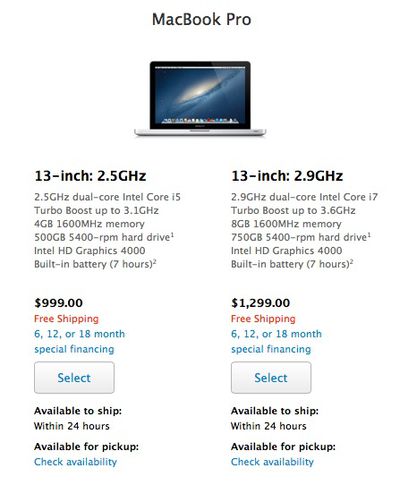 Education pricing on the non-Retina 15-inch model remains unchanged at $1699, while the 13-inch Retina MacBook Pro continues to start at $1399 for education customers. The discounted education pricing is available to employees of K-12 schools as well as faculty, staff, students, and parents of students at higher education institutions.
(Thanks, James!)