Apple Updates Look of Online Store With More Feature Images, Fewer Text Links
Apple today rolled out some updates to its online store, not only posting new features advertising Father's Day gift purchases but also introducing a new, cleaner look for the store. While the main page of the online store had previously consisted of a main center column with product promotions flanked by sidebars with additional links, the new look brings an all-feature design focusing more on product images.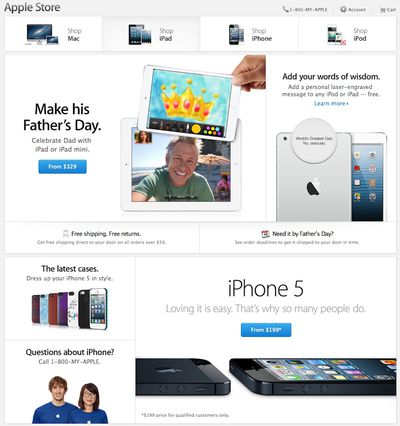 Previously, the left sidebar had offered quick access to accessory categories for Apple's various product lines, as well as links to the company's refurbished and clearance stores. Shoppers looking for accessories must now drill down through the product categories along the top "shop" navigation bar to reach the various accessories, while links to the refurbished and clearance stores are listed at the bottom of the page.
A similar situation exists for the former right sidebar, which offered links to Apple's other stores such as for education and business, as well as store services including gift cards, financing, and returns. All of these links are now only directly accessible through the store site map links at the bottom of the page.
The change removes some redundancy on Apple's main store page, as many links had appeared both in the main body of the page and lower down in the site map section, and by removing the sidebar links Apple has been able to bring much greater prominence to product images.


Apple has made additional image-centric changes further down in the site, with the main pages for each of the company's product lines now allowing for larger images and less text, while accessory pages have seen even more dramatic changes away from simple lists and toward more featured images.
Update: As noted by Macerkopf.de [Google translation], Apple has also added the ability for users in the German online store to pay for their purchases via PayPal.