Samsung and Sharp Introduce New Ultra-High-Resolution Notebook Displays
While Apple's 15" MacBook Pro was the first consumer notebook to gain a Retina-level display nearly a year ago, it is no longer the only such offering, as Google's Chromebook Pixel with its 12.85" 2560x1700 display and Toshiba's Kirabook with a 2560x1440 220 PPI display have joined the market in recent months.
Seeking to raise the ante on Retina displays, Samsung and Sharp have both introduced new high-resolution displays in the past week, targeting notebooks and ultrabooks with the latest technology. The new displays from both companies sport 16:9 ratios, making them unfit for Apple's line of notebooks, which all use 16:10 ratio displays, but they should make Retina displays a mainstream feature in the relatively near future.
Sharp last week announced new 11.6", 14", and 15.6" displays with pixel densities of 235-262 PPI, joining the company's existing 13.3" display at 221 PPI. Samsung's announcement today included a new 13.3" display with a 3200x1800 LCD panel at an even higher 276 PPI.
For comparison, Apple's 13" MacBook Pro with Retina Display has a 2560x1600 13.3" display at 227 PPI.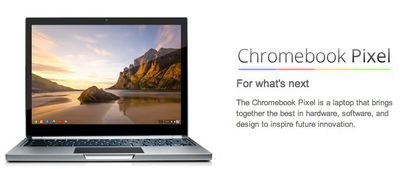 While high resolution is the most obvious benefit of these new displays for consumers, some of the screens bring other benefits as well. Samsung says its new 13.3" display offers 30% power savings over existing displays, something that would be important for a potential MacBook Air with Retina display. That machine is constrained by needs for a super-thin display and battery. And even for Apple's existing Retina MacBook Pro, advances being brought about by Samsung and Sharp are likely to make their way into Apple's notebook displays in the future.
Sharp advertises similar energy-saving benefits from its new IGZO displays:
IGZO technology enables smaller thin-film transistors and increased light transmittance. As a result, fine text can be rendered crisply and clearly, and images can be displayed with impressive realism. For example, the 14-inch panel boasts a pixel density of 262 ppi, which represents 1.67 times the number of pixels of full high definition. Increased light transmittance also means lower rates of energy consumption, with IGZO technology reducing the amount of power required to drive liquid crystals during the display of still images. These factors lead to greater energy efficiency and longer battery life on notebook PCs.
Apple has been rumored to be looking at Retina displays for desktop applications as well, but a future Retina iMac would face a different set of issues, including the cost of the panel itself at such large sizes, as well as the immense graphics and connectivity needs to drive such a display.