Google Introduces the Chromebook Pixel to Compete With the MacBook Air
Google today announced the Chromebook Pixel, a new Chrome OS-based notebook that Google is aiming directly at Apple's MacBook Air.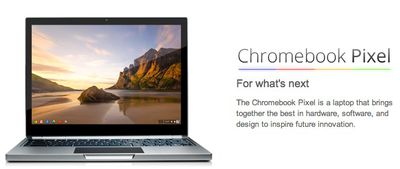 On the hardware front, Google has built in a high-resolution touchscreen display, as well as 32 or 64GB SSD storage, a backlit keyboard, and a dual core 1.8GHz Intel i5 processor. The unit includes a 12.85" screen with a 2560 x 1700, 239 ppi display -- the same range as Apple's 13" MacBook Pro with Retina, which has a 227 ppi screen -- as well as two USB 2.0 ports, a Mini Display Port connector, and a SD-card reader.
The machine runs Google's Chrome OS, the web-only operating system that the company introduced almost two years ago. As added perks, the Pixel comes with 1TB of Google Drive cloud storage for three years, and 12 free sessions of GoGo inflight Wi-Fi.
So what's next? Today we're excited to announce our newest laptop—the Chromebook Pixel—which brings together the best in hardware, software and design to inspire the next generation of Chromebooks. With the Pixel, we set out to rethink all elements of a computer in order to design the best laptop possible, especially for power users who have fully embraced the cloud. The philosophy of Chrome has always been to minimize the "chrome" of the browser. In much the same way, the goal of the Pixel is to make the pixels disappear, giving people the best web experience.
The Pixel
comes in two flavors, a
$1,300
model that includes 32GB of SSD storage and Wi-Fi connectivity, while the
$1,450 option
adds built-in LTE and a 64GB SSD. The Wi-Fi only model ships today while the LTE model is expected in 6-7 weeks.
While the Pixel's hardware is appealing, because it runs the Chrome OS there are not nearly as many apps available for it as comparable Windows or OS X machines. Gadget recommendation site The Wirecutter had this to say:
Maybe someday Chrome OS will really be enough of an operating system to replace Mac OS X or Windows on a productivity machine. But at $1,300, the Chromebook Pixel is just too much machine for the software. If you have the money to spend on the Pixel and you need the kind of hardware it's packing, you have so many other better options.