Siri Updated to Respond to Long Questions With Quotes on Brevity
Apple has quietly given Siri the ability to answer user responses with quotes, citing famous passages from notable people like William Strunk and Thomas Jefferson. First noticed by iLounge, the quotes are used when Siri is asked a question that is excessively long, tactfully reminding the user of the value of brevity.
When Siri is given a request that is too lengthy, she will now respond with one of several different quotes that suggest that the user shorten the question. For example, one quote from Thomas Jefferson reads, "The most valuable of all talents is that of never using two words when one will do."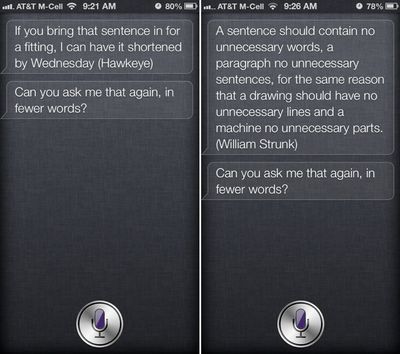 Siri has a range of different quotes in her repertoire, including one from the 1970's television show MASH.
It is unknown when the change to Siri was implemented, but a Reddit thread from last week appears to contain the first known instance of the phrasing, suggesting that Siri's new quoting ability was added within the last week or two.