Messaging App LINE Ordered by Apple to Remove Paid Sticker Gifting
Popular free messaging app LINE was forced to remove one of its key sticker features today, eliminating the ability for its users to purchase and send sticker sets as gifts to friends.
Stickers are an important monetary source for LINE, notes The Next Web, bringing in $17 million last quarter, which represented 30% of the company's total revenue. Stickers can be sent in chat messages and represent different characters and emotions. The stickers, which are bought in sets, can also be gifted to friends for their own use. A set of stickers generally costs $1.99 and includes 40 different sticker options.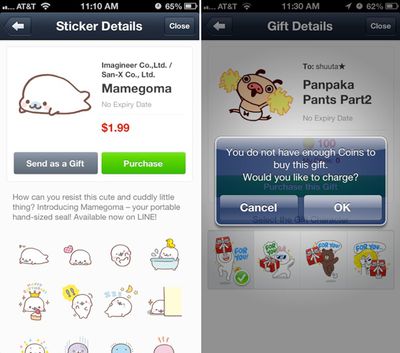 We received a request directly from Apple who operates the AppStore, that this sticker gifting function will have to be withdrawn from the app, and we do apologize for the disappointment this may cause to all of you who are having fun sending stickers as gifts to your friends.

Functions withdrawn from the iPhone version of LINE:
- Gifting function of paid-for stickers to friends
- Purchasing of Coins necessary to use the gifting function
LINE does not explain what aspect of paid sticker gifting triggered the removal, but the app does use a complicated system for sticker distribution. Stickers purchased for self use are standard in-app purchases, but sticker sets that are purchased as gifts for others require the purchase of in-app coins, a secondary currency that is then used to distribute the gift stickers.
It is still possible to send free sticker sets to friends, and remaining coins can continue to be used to purchase stickers, but no new coins are available. Gifting sticker packs is still available through LINE's Android app, and cross-platform interconnectivity has not been removed. Sticker purchasing for self use has not been affected.
LINE's success with stickers has inspired other apps, like Path, to use stickers. Facebook is also experimenting with stickers, having introduced them into both the iOS Facebook and Facebook Messenger apps for use when chatting.