Jim Dalrymple, the veteran Apple journalist behind
The Loop
, is
launching
a new magazine for iOS devices today. Rather than simply being an iOS version of the existing site, the magazine version of
The Loop
is a separate publication hosting longer form writing from a variety of contributors and perspectives. As Dalrymple notes in his welcome message:
For many years people have been asking me why I didn't release an app for the iPhone and iPad. The answer was simple: I couldn't find anything that added value to what I did on The Loop. I wanted something more than a side-scrolling news app that basically imitated what I'd already linked to or written on the Web site. [...]

It wasn't until I saw the format that Marco Arment used in The Magazine that I realized what I really wanted for The Loop -- a design and reading experience that matched what I had on the Web site. An easy to read magazine that focused on original content, not on selling ads.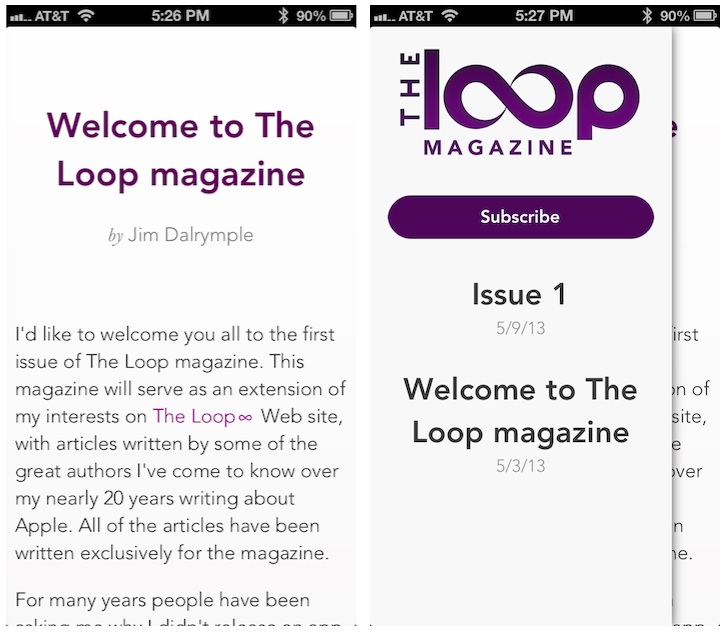 The inaugural issue of
The Loop
magazine includes a half dozen articles:
- A piece on enduring design from developer
Matt Gemmell
- An autobiographical piece from Dream Theater keyboardist
Jordan Rudess
talking about the impact of technology and how he has embraced it in his work
- An essay on the impact of the smartphone revolution bringing computers into our pockets from Creative Strategies analyst and
Time
contributor
Ben Bajarin
- A look at the balkanization of the Mac gaming industry by
The Loop
co-founder and
iMore
senior editor
Peter Cohen
- A personal look at disruptive problem solving from
Flexibits
co-founder Michael Simmons
- A brief introduction to wine for newbies from event planner Brenda Singer
The Loop magazine
is available through Apple's Newsstand automatic subscription delivery service and published twice per month, with subscriptions priced at $1.99 per month. [
Direct Link
]