The Vox Music Player was originally created as a universal media player in 2007. Its simple design and its support for a wide range of file types led to a surge in popularity, but development stalled and it largely fell out of the public eye. Coppertino, an independent development studio that focuses on Mac and iOS software, has since adopted and redesigned the media player.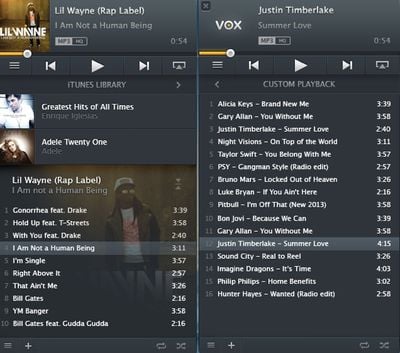 Vox 1.0 retains the minimalistic design of the original software, but comes equipped with a number of upgrades. It supports a wide variety of audio formats like MP3, FLAC, AAC, Musepack, Ogg Vorbis, WAV, and more, plus it integrates easily with iTunes.
The app supports a number of music sources including network drives, external hard drives, and VPN-connected storages and its built-in equalizer comes equipped with presets and adjustments to improve the listening experience.

- VOX 1.0 supports literally any source your Mac can access. Add music from external HDDs, network drives and VPN-connected storages.
- Supports multiple output devices using AirPort.
- Built-in equalizer with a variety of presets and adjustments.
- Transforms ordinary stereo source into 7.1 or 5.1 channel output.
- Bauer Stereo feature provides more realistic sound when listening to stereo music through headphones.
- Your music automatically pauses when your headphones are disconnected.
- Handy controls available from OS X main menu and VOX Dock icon.
- Full OS X gesture support including altering playlist height, switching music sources or adjusting volume.
Vox 1.0 will enter open beta next week, but MacRumors readers can sign up to download the beta version of the app immediately from the Coppertino website.