Firaxis and 2K Games' critically acclaimed strategy title XCOM: Enemy Unknown has officially launched for the Mac today.
Originally announced in February, XCOM: Enemy Unknown for Mac comes packaged as part of a special Elite Edition, which includes additional add-on content like the Slingshot Pack, the Elite Soldier Pack, the Second Wave update and the game's soundtrack.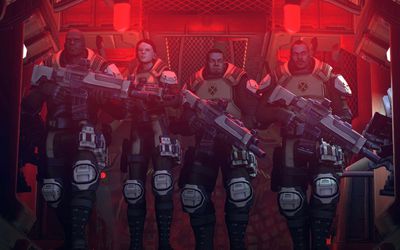 XCOM: Enemy Unknown is a re-imagined version of the 1994 classic X-Com: UFO Defense. In the game, players will lead a secret government organization to defend the world against aliens, overseeing base management and engaging in combat.
-Command XCOM's soldiers in tense turn-based battles where each decision could be the difference between game-changing gains or devastating losses for humanity.

-Expand the XCOM base, manage its resources, oversee international relations and control Earth's satellite coverage and air defenses.

-Recruit, customize and equip an elite squad, then upgrade each soldier's unique skills and abilities as they gain experience in the field.

-Recover artifacts from battle and use them to research and build powerful technologies that can be turned against the invaders.

-Mix and match aliens and soldiers to create powerful squads in LAN and online multiplayer.
The included DLC adds extended character customization options and additional missions, along with several new gameplay options.
XCOM: Enemy Unknown - Elite Edition can be downloaded for $49.99 from the Mac App Store. [Direct Link]