Apple Offering 150 Free WWDC Tickets to Student Developers
Apple announced its 2013 Worldwide Developers Conference (WWDC) this morning, with plans to put tickets up for sale tomorrow at 10am.
Tickets for WWDC can be hard to come by and sold out within two hours last year, but current students might be able to attend the conference through a WWDC 2013 Student Scholarship.
Apple has set aside 150 scholarships for full or part-time students aged 13 years or older. Students must be current members of the iOS Developer Program, iOS Developer University Program, iOS Developer Enterprise Program, or Mac Developer Program.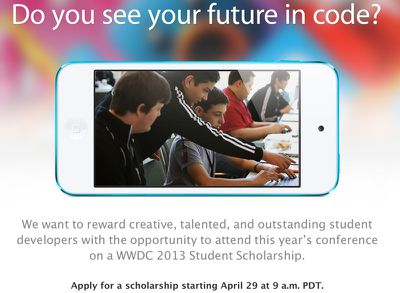 To win a scholarship, students must submit an application and create an app that demonstrates both creativity and strong coding abilities.
Use your creativity and coding skills to build an app that tells us about you. Your app should highlight development projects you've worked on, your educational and professional background, technical skills, and interests.
Scholarship applications must be submitted by Thursday, May 2, 2013 and will be judged on technical accomplishment, creativity, essay questions, and technical/work experience.
WWDC 2013 is set to take place from June 10–14 at the Moscone Center in San Francisco. Tickets will go on sale tomorrow, April 25 at 10 a.m. PDT for $1599 each.