Apple Announces WWDC 2013 Scheduled for June 10-14, Tickets on Sale Tomorrow
Apple today announced that its annual Worldwide Developers Conference (WWDC) will take place June 10-14 at the Moscone West convention center in San Francisco. The company also announced that tickets for the event, which will be priced at $1599, will go on sale tomorrow at 10:00 AM Pacific Time.
"We look forward to gathering at WWDC 2013 with the incredible community of iOS and OS X developers," said Philip Schiller, Apple's senior vice president of Worldwide Marketing. "Our developers have had the most prolific and profitable year ever, and we're excited to show them the latest advances in software technologies and developer tools to help them create innovative new apps. We can't wait to get new versions of iOS and OS X into their hands at WWDC."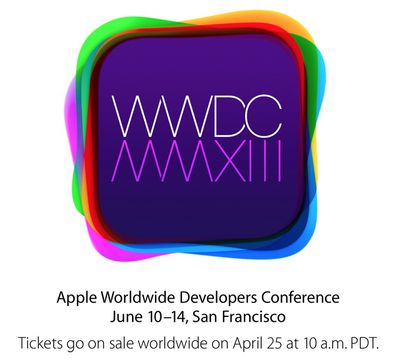 In past years, Apple has put tickets on sale simultaneously its announcement, but with tickets selling out in shorter and shorter amounts of time, it appears that Apple has decided to announce the on-sale time a day early in order to give developers equal chances at obtaining tickets. Tickets for WWDC 2012 sold out in less than two hours.
As was the case last year, Apple's requirements for purchasing a ticket to WWDC include membership in one of the company's paid developer programs. With the advance notice of ticket sales, Apple is also requiring that developers have been members of a paid program prior to today's announcement, preventing last-minute signups.
Developers between the ages of 13 and 17 must also have their tickets purchased by a parent or guardian who is also a member. Tickets are limited to one per person and five per organization.
For developers who are unable to obtain tickets to WWDC, Apple notes that it will be posting session videos during the conference rather than afterwards as it has in the past. Apple previously charged hundreds of dollars for access to the session videos, but made them free for registered developers several years ago and by last year had shortened the time lag between the end of the conference and the video launch to just a few days.