Apple has changed the terms of its retail store One to One service (via ifoAppleStore), which is a $99 program that gives Apple customers personal training lessons on Mac usage from an Apple employee.
The new terms state that One to One customers must initiate the included Data Migration services within 60 days of purchasing a One to One membership.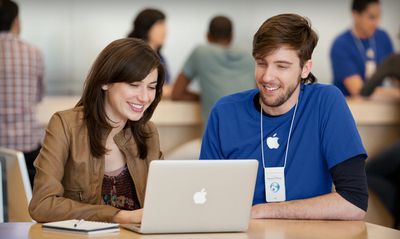 One to One members are entitled to Data Migration services for one (1) Mac purchased from an Apple Retail Store, Apple Online Store, or 800-MY-APPLE, if requested within the first sixty (60) days of your membership, including any renewals. Data Migration includes the data transfer of files from your old computer (PC or Mac) to your Mac.
Previously, Data Migration could be requested at any point during the year-long One to One service term, but a late migration can be more complicated than a migration that is initiated directly after purchase.
Completing the data transfer a while after the initial purchase can lead to difficulty and confusion for both the staff doing the transfer and the end user who is still learning to navigate around a Mac computer.
With the shift to digital software distribution, Apple is also now requiring that One to One assistance with software installation occur face-to-face in a Personal Training or Open Training session rather than as part of the Data Migration process.