StackSocial has launched its second 'Name Your Own Price' Mac bundle, offering 10 Mac apps to any purchasers who pay more than the average purchase price (currently $7.99). Anyone paying less than the average price receives just three apps.
Additionally, ten percent of the purchase price goes to one of three charities: Child's Play, the World Wildlife Fund, or Creative Commons.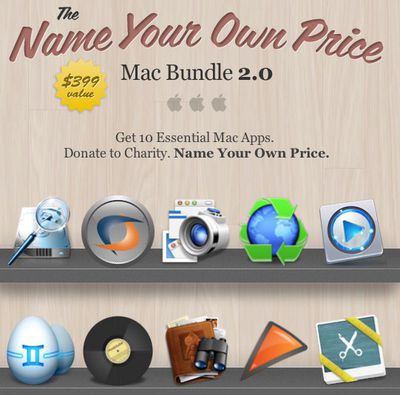 The three apps that every buyer gets are:
Elmedia Player Pro - $20 - Flash Video Utility
HoudahSpot - $29 - Spotlight Addon
PhotoBulk - $10 - Watermark and Photo Utility
Buyers that pay more than the average price also receive:
DiskTools Pro - $80 - Hard Drive Utility
CrossOver 12 - $60 - Run Windows Software
Snapz Pro X - $69 - Screenshot and Video Utility
Paperless - $50 - Document Manager
Mac Blu-ray Player - $60 - Blu-Ray Player Software
Gemini - $10 - Duplicate File Locator
Musictube - $11 - YouTube Music Player
The deal ends in just over 7 days and it's likely the price will rise slowly because buyers need to pay at least the average price in order to get the full selection of apps.
MacRumors is an affiliate partner of StackSocial.