Apple Stock Price Hits Lowest Levels Since 2011, Falls Below $400
Apple's stock price hit new lows today, setting 52-week records and hitting the lowest points seen since late 2011. The price has traded beneath the $400 level several times this afternoon, with AAPL having not traded that low since December 23, 2011.
Today's slide follows a lower-than-expected revenue forecast for Cirrus Logic, a major supplier for chips used in the iPhone and iPad. Traders believe the lower forecast indicates weak Apple sales over the next several quarters.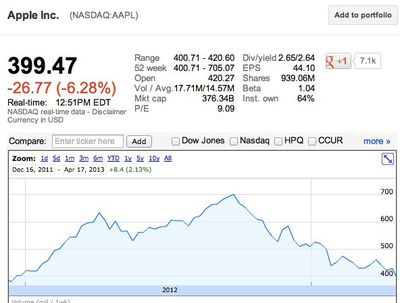 Apple's stock price traded over the $400 mark for the first time in July 2011.
Apple will announce its second quarter earnings on April 23rd. The earnings release typically occurs just after 4:30 PM Eastern Time following the close of regular stock trading, and the conference call is scheduled to follow at 5:00 PM Eastern / 2:00 PM Pacific.