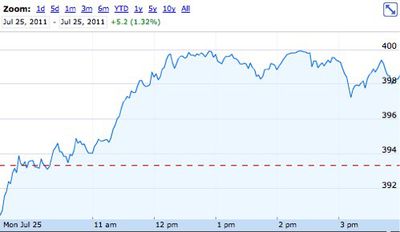 Apple's stock price today briefly touched $400/share during standard trading hours for the first time ever, before falling back slightly to close at $398.50 today. The 52-week, and thus all-time, high is currently $400.00 exactly.
The most likely cause for the 'bounce' off the $400 ceiling are sell limit orders -- semi-permanent orders to sell a certain stock at a certain price. In this case, the $400 level is psychologically significant and a comparatively high number of limit orders would execute at this price.
As a result, the stock hits $400 and "bounces" down again. It appears in the chart above that AAPL nearly breached $400 at 12:54PM and 2:22PM.
Going through the NASDAQ trading report from today, we can see this effect in action:
See pages 27, 26, and 25 (in reverse chronological order) from the 12:30 - 12:59 trading block today. We can see the trades at $399.99 and then a flurry of trades made at $400 as dozens of limit orders are executed. Thousands of shares traded hands at $400, in just three seconds, from 12:53:56PM to 12:53:59PM.
AAPL briefly broke through the $400 barrier in extended-hours trading last week, but this was the first time it touched $400 during the standard 9:30-4 trading day.