Amazon Acquires Siri-Challenger 'Evi' for $26 Million?
TechCrunch is reporting that Amazon has acquired Evi, a natural language search platform that is similar to Apple's Siri, for $26 million. The Evi app was originally posted on the App Store but Apple had threatened to remove because of similarities to Siri, but later said it would "work with" the company to reduce similarities. Evi remains available on the App Store.
TechCrunch understands from sources that the company has been sold to Amazon for $26 million. However, calls to Amazon PR, backers Octopus Ventures and the founders of Evi have ben met with a stoney silence. A spokesperson for Octopus told us: "On this occasion Octopus will decline to comment on this specific portfolio company".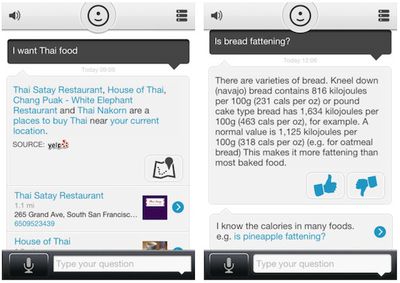 True Knowledge, the company behind Evi, licensed the same Nuance voice recognition technology that Apple uses in Siri and offers an array of information that seems to compare favorably to Siri's abilities. Evi first launched in early 2012.
Amazon has a number of possible uses for Evi, including building the service into its Kindle Fire tablet, or a possible Amazon phone.
Evi
is a
free download
for the iPhone. [
Direct Link
]