Apple Releases Safari and Java Updates With Plug-In and Security Improvements
Apple today released a series of updates for both Safari and Java, addressing continued issues with Java security.
The Safari updates arrive as version 6.0.4 for OS X Mountain Lion and Lion and version 5.1.9 for OS X Snow Leopard. The updates, which can be obtained through the Software Update mechanism in OS X, add new site-specific options for enabling the Java plug-in.
Safari 6.0.4 and 5.1.9 allow you to enable the Java web plug-in on a website-by-website basis, with four settings to choose from.
Full details on how to use the site-specific options are available in an associated support document.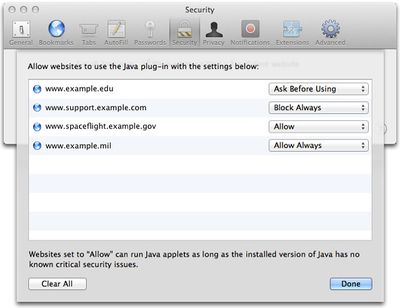 Alongside today's Safari update, Apple has also released updated versions of Java 6. They arrive as Java for OS X 2013-003 for OS X Mountain Lion and Lion users and Java for Mac OS X 10.6 Update 15 for OS X Snow Leopard users. The updates bring the Apple-provided Java 6 up to the latest Update 45 version of the software from Oracle, which released the update for other platforms earlier today. Java 7 updates are now handled by Oracle directly, and users should update through Oracle's site.