Apple's Removal of AppGratis From App Store Just the First Phase of Broader Crackdown
For the past several days, we've been following the story of Apple's removal of AppGratis from the App Store. AppGratis offers a popular app discovery service with the main feature being a hand-picked app offered free each day.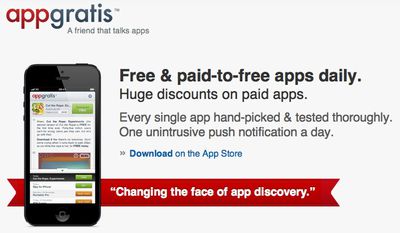 Apple acknowledged that it had pulled the app for violating two App Store rules related to offering apps in a manner which might be "similar to or confusing with the App Store" and using push notifications to send out promotions. AppGratis CEO Simon Dawlat responded yesterday to note that Apple had approved the app a number of times, including an iPad version just a week ago, before a new reviewer stepped in and quickly pulled the app after being unable to contact Dawlat, who was on an airplane at the time.
AllThingsD now reports that Apple's removal of AppGratis is just the first step in a broader crackdown on such apps, with more app discovery services soon to be pulled as well.
I'm told Apple feels these apps threaten the legitimacy of the App Store charts by providing a way for developers to spend their way to a high ranking. Apple did something similar in 2011, when it rejected a number of applications running incentivized app installs within their apps.

The company also worries that such apps undermine the integrity of the App Store by cluttering it with alternative storefronts. As one source described it to me, some of these discovery apps create a scenario
that's similar to walking into Nordstrom and seeing a Walmart inside.
AppGratis notes that it is "far from finished" and that its 12 million existing users will be able to continue to use the app while the company explores its alternatives, but AllThingsD makes clear that the removal of AppGratis was not simply an error on the part of a reviewer and that AppGratis is "almost certainly finished as an iOS app — in its current incarnation, anyway".