Amid Apple Campus 2 Cost Concerns, Foster + Partners Reportedly Taking on Apple Retail Store Projects
Less than a week after a report from Bloomberg Businessweek outlined how Steve Jobs' strict requirements for "fit and finish" at the company's upcoming Norman Foster-designed Apple Campus 2 in Cupertino have seen the cost of the massive project balloon to $5 billion, Marketing reports [via Pocket-lint] that Foster's firm has been tapped to work on retail store projects for Apple.
Sources close to the project said Foster + Partners, which has designed buildings including the McLaren Technology Centre and Hearst Tower in New York, is helping Apple on the retail store design brief. [...]

A Foster + Partners spokeswoman said: "Any project for Apple is confidential and therefore we are unable to comment."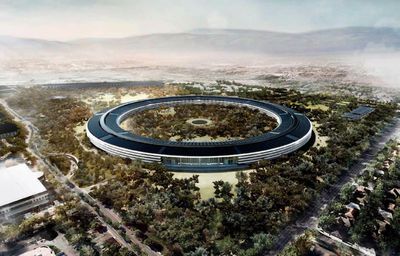 Apple has long worked with design firm 8 Inc on its retail stores, dating back to store-within-a-store concepts that preceded Apple's own retail locations. The retail partnership between 8 Inc and Apple built upon a previous arrangement that saw 8 Inc assisting with the design of Apple's displays at Macworld trade shows.
While 8 Inc has long served as Apple's design partner for the company's retail stores, architectural expertise for many of Apple's high-profile locations has been provided by Bohlin Cywinski Jackson.
It currently remains unclear how extensive the relationship between Apple and Foster + Partners will be for retail stores, including whether 8 Inc and/or Bohlin Cywinski Jackson are being entirely replaced.