OS X Targeted 'OpenEmu' to Deliver Native Mac Interface to Console Emulators
There are few great emulator options for OS X, but that is set to change in the near future as multi-source system emulator OpenEmu prepares for an official launch.
Open Emu is an open source project to bring game emulation to OS X as a first class citizen, leveraging modern OS X technologies such as Cocoa, Core Animation and Quartz, and 3rd party libraries like Sparkle for auto-updating. Open Emu is based on a modular architecture, allowing for game-engine plugins, this means Open Emu can support a host of different emulation engines and back-ends while retaining a familiar OS X native front-end.
OpenEmu, which has been in beta for quite some time, is able to emulate the hardware of several different consoles. Version 1.0 of the software will include support for several 16-bit systems, including the Game Boy, Game Boy Color, Game Boy Advance, Game Gear, NeoGeo Pocket, Nintendo Entertainment System, Sega Genesis, and Super Nintendo, among others.
Support for additional systems like the Nintendo 64, the Nintendo DS, and the Sony PlayStation will be added in the future.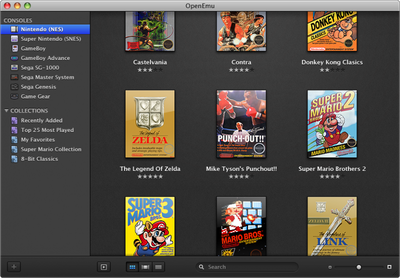 The emulator features a slick iTunes-style design, displaying downloaded ROMs in a menu organized by system. Designed from the ground up for OS X, it offers up a native OS X interface.
With full save state support, the software allows for multiple ROMs to be played at once and it also provides OpenGL scaling, multithreaded playback, and gamepad support.
At this point in time the team behind OpenEmu is working on polishing the app and adding final artwork, but the release is "close."


OpenEmu was previously available as a beta download and the beta version of the application can still be acquired by downloading and compiling the source code via Xcode. A full set of instructions is available here.