Facebook Home Reviews: For Facebook Fans Only, Addictive, Too Simple
The first reviews for Facebook Home, the social network's new Android home screen experience, are out. Home isn't quite a "Facebook Phone", but it also isn't a full-fledged operating system. It slots right in between the two segments.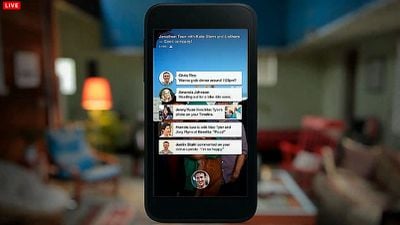 Dieter Bohn of The Verge details the two main components of Home:

Facebook Home essentially consists of two parts. The first is Facebook Home proper (henceforth "Home"), which replaces your homescreen and your lockscreen with Facebook's News Feed and app launcher. The second is a major update to Facebook Messenger which lets you receive and reply to texts no matter which app you're using.
Bohn mentions that the Chat Head feature, which overlays Facebook Messenger chats over any app a user may use, was a highlight.

The difference in immediacy and convenience is huge. What Facebook has figured out is that people usually have messaging conversations with somebody for a little while, but are doing other things on their phone while they do it. Being able to reply without losing your sense of place is incredibly convenient.
Walt Mossberg of AllThingsDigital thought that the two-pronged set-up was simple to use.

I found Facebook Home to be easy to use, elegantly designed and addictive. Although I'm a regular Facebook user, I found that, with Home, I paid more attention than ever to my news feed, Liked items more often and used Facebook's Messenger service more often. So, if you are a big Facebook fan, Facebook Home can be a big win.
Although The Verge says that Home's simplicity also hurts it as it lacks key Android features like Widgets and Folders. They also mention that although Home has its own version of notifications, most apps do not support it and default to Android's notification pane. Both Bohn and Mossberg conclude that although Home is simple-to-use and addictive, only Facebook fans should take notice as it lacks key features for most smartphone users.
Facebook CEO Mark Zuckerberg previously said that bringing Home to iOS would not be as easy as it was on Android because Android is "open" and Facebook would have to go through Apple and its existing relationship with the company while they don't have to go through Google for Home.
Facebook Home will be available to download for select Android devices (Samsung Galaxy SIII, HTC One X, HTC One X+ and Samsung Galaxy Note II) on April 12th for free. HTC and AT&T will also be offering the HTC First, a $100 smartphone that will have Home preloaded.