'Samsung Experience Shops' Coming to 1,400 Best Buy Locations
Last week, we noted that Samsung was rumored to be launching a new "store-within-a-store" concept inside Best Buy stores, taking on the dedicated "Apple Shops" that have been located in many Best Buy locations for a number of years.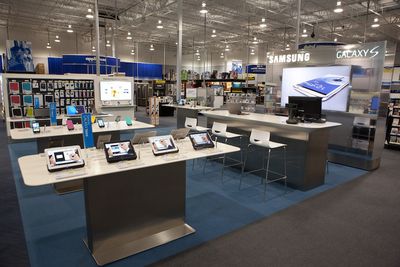 Samsung and Best Buy have now officially announced the partnership, with "Samsung Experience Shops" focused on the company's mobile products coming to 1,400 Best Buy and Best Buy Mobile locations over the next several months.
At the Samsung Experience Shops, consumers can experience Samsung's full range of mobile products including smartphones, tablets, laptops, connected cameras and accessories, all in one location. The shops enable consumers to interact with and buy Samsung's latest mobile products and experience how the devices connect together to enrich their lives.

Select Best Buy stores will have Samsung Smart Service™, which includes dedicated Samsung Experience Consultants™ and Best Buy blue shirt sales associates to assist customers with purchasing and activating mobile products on the carrier of their choice, understanding their device and supporting them throughout the lifecycle of their product. The specially trained Samsung Experience Consultants will assist with product demonstrations, basic product services, Samsung account set up, warranty registration and post purchase support.
The Samsung Experience Shops will be of a variety of sizes, with the largest measuring 460 square feet and others such as those in Best Buy Mobile locations being considerably smaller.