Twitter has released a significant update to its TweetDeck Mac App, adding features like improved filters, new font sizes, and the advanced search tools that were originally added to the Chrome application in December.
Column filters, which have long been a part of the TweetDeck Web app, are a new addition to the Mac version, along with tools for filtering columns by content and users.
With content filters, TweetDeck users can filter Twitter streams with several different parameters, including media, RTs, and including and excluding terms. The update also offers additional font sizes and new keyboard commands.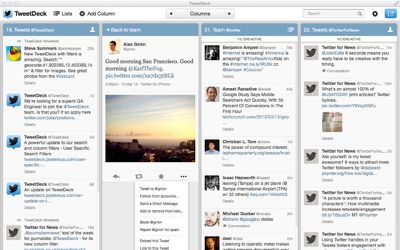 -Introduced column filters and powerful advanced search
-Added Content filters to columns and search including ability to filter by media, RTs, including and excluding terms
-Added Users filters to columns and search including ability to filter by verified users, members of a list and more
-Added wide column setting
-Added new font sizes to settings
-Spacebar now triggers page down event
-Cmd+W closes windows
-Social proof for favorites & RTs in detail view
-Added verified badge to list searches
-Enabled infinite scroll in temporary columns
In early March, Twitter announced that it was ending support for TweetDeck for iPhone, Android, and TweetDeck AIR, focusing instead on its TweetDeck Web app and Google Chrome apps, along with its native Mac and PC apps.
TweetDeck for Mac is a free download from the Mac App Store. [Direct Link]