Facebook Appears Set to Debut iPhone Competitor Built on Android on April 4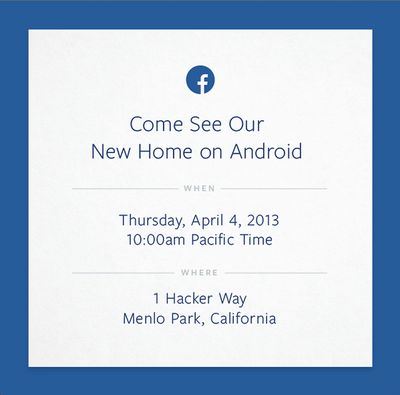 Facebook today invited members of the press to an Android-related event on April 4, and TechCrunch reports that the event will likely see the debut of the long-rumored Facebook phone. According to reports, the device would be an HTC handset running a Facebook-modified version of Android.
If true, the move would turn Facebook into an Amazon-style competitor in the smartphone market for Apple, as Amazon has heavily modified Android for its own Kindle Fire tablet devices.
There have been persistent rumors of Facebook working on a smartphone, with Bloomberg reporting in 2010 that the phone would be based on a "stripped-down" version of Android. Last year, the New York Times reported that Facebook was hiring former Apple iPhone and iPad engineers to work on a "Facebook phone."
TechCrunch highlights one of the key reasons why Facebook would want to create a smartphone device of its own:
With deeper control of a modified operating system would come huge opportunities to collect data on its users. Facebook knows that who you SMS and call are important indicators of who your closest friends are. Its own version of Android could give it that info, which could be used to refine everything from what content you're shown in the news feed to which friends faces are used in ads you see.
Facebook currently has two of the more popular free apps in the App Store with Facebook and Facebook Messenger. Recently, the company has updated its main Facebook app to add free VoIP calling in a number of countries.