Former Apple employee Tim Holmes recently discovered a set of photographs taken on an Apple QuickTake camera -- one of the first digital cameras made -- from the night Steve Jobs returned to Apple after it purchased NeXT.
Holmes notes in the description that the colors are incorrect in the photos because of the poor quality of digital cameras in 1996, and that Jobs' jacket was actually black, not purple.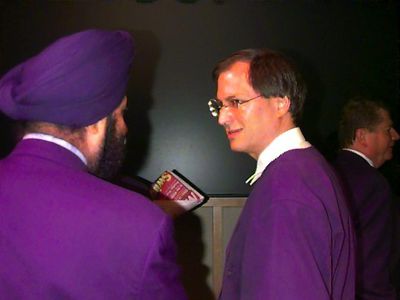 Working late on a Friday on December 20th at Apple Computer as Mac OS Evangelist, my manager came rushing past my office door saying to come with him to Town Hall, Apple's theater for announcements, company meetings and the like. It was clearly not a company meeting…
Joining Jobs' in the image above was Satjiv Chahil, Apple's senior vice president of worldwide marketing at the time.