Tomorrow's T-Mobile 'Uncarrier' Event to Include iPhone Announcement
CNET reports that T-Mobile will finally announce plans to sell the iPhone at tomorrow's "Uncarrier" event in New York City.
T-Mobile, which is the only one of the four major U.S. carriers that does not currently offer the iPhone, originally confirmed that it would begin selling Apple products at some point in 2013.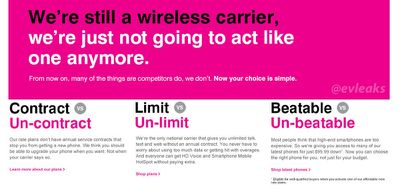 In addition to an iPhone announcement, the event is expected to feature an announcement about T-Mobile's plan to end device subsidies and introduce
contract free phones
as part of an
overall rebranding
of the company.
The iPhone is critical to T-Mobile's plans to re-make itself as the "different" carrier. It will be the marquee product illustrating its new no-contract, no subsidy rules, where a customer pays a small fee upfront and pays a monthly charge on top of the service plan to cover the phone costs.
The carrier, which currently supports more than two million iPhones, is also said to be preparing to officially unveil its LTE network at tomorrow's event. iPhone pricing and availability has yet to be announced, though CNET's source notes that the phone will not be immediately available for purchase.