T-Mobile Attacked by AT&T in Newspaper Ad Ahead of Potential Rebranding
According to TmoNews, T-Mobile is gearing up to introduce significant changes to its service in March, eliminating both contracts and early termination fees, along with implementing installment payments for its equipment. T-Mobile's move to end subsidies was confirmed by the company in late December.
-For starters, kiss contracts goodbye as T-Mobile moves to a no-contract world. Existing customers will finish out their current contract or upgrade to a new device without a new contract, whichever comes first. New customers won't have to suffer with any long-term commitments. Contract wise that is.

-Early termination fees will be a thing of the past as well, which makes complete sense when announced with the removal of contracts.

-Expect the introduction of a new equipment installment plan tier, likely in the $25 – 30 dollar range as T-Mobile moves to make all its smartphones $99 or less as down payments. A $30 tier makes sense if you consider the retail value of the device is $699 = $30 x 20 monthly payments.
Along with the service updates, T-Mobile is also expected to refine its brand image, with a focus on its "Dual 4G" HSPA+ and LTE networks and the retirement of its former "Stick Together" tagline.
The news of T-Mobile's upcoming revamp comes just after AT&T posted full page ads in The New York Times, The Wall Street Journal, and USA Today lambasting the carrier for dropped calls and slow download speeds.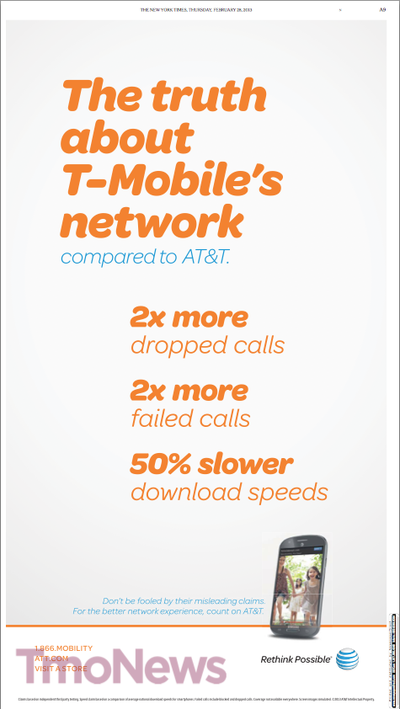 The attack is a response to T-Mobile CEO John Legere, who called the AT&T network "crap" back in January. The animosity between the two companies began after AT&T failed to purchase T-Mobile following objections from the Federal Communications Commission and the Department of Justice.
T-Mobile is the fourth largest carrier in the United States, behind AT&T, Verizon, and Sprint. Though T-Mobile does not currently offer Apple products, Apple has confirmed that it plans to offer its products via T-Mobile in 2013.