Apple TV Software Updated to Version 5.2.1 with Bug Fixes, Hulu Redesign
Alongside today's update to iOS 6.1.3, Apple also updated the Apple TV to version 5.2.1. The 5.2.1 software contains a number of bug fixes and has also brought a redesigned Hulu app to the device.
The security fixes, which can all be credited to the evad3rs, prevent users from executing unsigned code, determining the address of structures in the kernel, and executing arbitrary code in the kernel.
As for Hulu, the app has been entirely redesigned with improved discovery tools and some simple UI enhancements.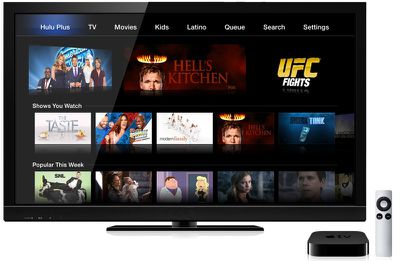 Right away, you'll notice we've added content categories across the top navigation bar to make it easy to for you to jump to your chosen section – whether it is TV, Kids, Latino, Search, or something else. Inside each category, you'll discover what's new in our content library so it's easy to discover new shows and keep up with the shows you already love. You can also jump into your favorite shows right away with the "Shows You Watch" tray. We built this to make sure you never miss a new episode or lose your place in a series.
Users are now able to hold down the "Select" button to access the Subtitles and Audio menu for captioning, and pressing play on a TV show will play the latest episode. This new functionality is reliant on the Apple TV 5.1.2 update.
The latest Apple TV update is currently available for eligible devices and can be downloaded immediately on Apple TV.
Update 1:11 PM: Apple has updated its Apple TV software updates support page with mention of several other changes included in the 5.2.1 software.
- iTunes in the Cloud: Adds support for Music in the Cloud in Japan and Israel.
- Stability and performance: Includes improvements for software update, subtitles, and general performance.