BlackBerry CEO Says Despite a 'Fantastic Job' With iOS Design, Apple Now Lacks Innovation
In an interview in The Australian Financial Review (via AllThingsD), Blackberry CEO Thorsten Heins describes iOS as an outdated user interface, claiming that the iPhone is at risk of being replaced in the popularity stakes due to a lack of innovation.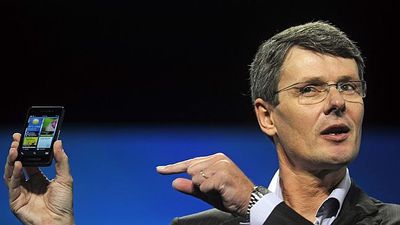 "Apple did a fantastic job in bringing touch devices to market ... They did a fantastic job with the user interface, they are a design icon. There is a reason why they were so successful, and we actually have to admit this and respect that," Mr Heins said.

"History repeats itself again I guess ... the rate of innovation is so high in our industry that if you don't innovate at that speed you can be replaced pretty quickly. The user interface on the iPhone, with all due respect for what this invention was all about is now five years old." [...]

"The point is that you can never stand still."
Heins has firsthand experience of this phenomenon, as BlackBerry has received significant criticism over its lack of innovation as its worldwide smartphone market share has fallen from nearly 20% to just 3.5% over the past three years. The company is hoping for a revival of its fortunes with the Blackberry Z10, which is launching in Australia and the United States in the coming days following debuts in several other countries in recent weeks.
Apple design chief Jonathan Ive late last year took over responsibility for software as well as hardware design following the departure of former iOS head Scott Forstall, generating great interest in the extent to which Apple may update the user interface in iOS 7.