IDC Predicts Android Tablet Shipments Will Overtake iPad Shipments in 2013
According to a new report from research firm IDC, tablets running Google's Android operating system are poised to overtake the iPad during the course of 2013.
A surge of low cost Android-based tablets has prompted IDC to forecast worldwide tablet shipments of 190.9 million, an increase from its previous estimate of 172.4 million.
48.8% of those are expected to run Google's operating system, giving Android the plurality of the tablet marketshare by the end of the year. In comparison, Apple is expected to retain just 46% of the tablet market, while Windows and Windows RT will make up 4.7% of overall tablet shipments.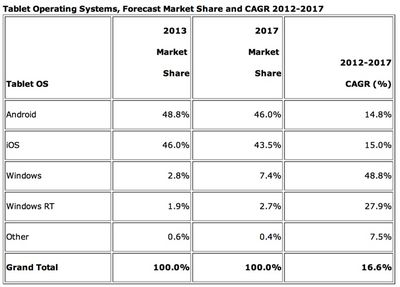 In 2012, Apple's share of the market was 51% while Android's was just 41.5%.
"One in every two tablets shipped this quarter was below 8 inches in screen size. And in terms of shipments, we expect smaller tablets to continue growing in 2013 and beyond," said Jitesh Ubrani, Research Analyst for IDC's Tablet Tracker.

"Vendors are moving quickly to compete in this space as consumers realize that these small devices are often more ideal than larger tablets for their daily consumption habits."
By 2017, IDC forecasts that Android will have 46% of the market with Apple falling further behind with 43.5%. It is important to note that IDC's estimates are based on shipments rather than sales. Android's larger share of low cost tablet shipments may not translate into greater direct consumer sales.
IDC's newest report corroborates its January findings, where Apple's share of the market slipped to 43.6% in the fourth quarter of 2012, a significant decrease from its 51.7% share in the fourth quarter of 2011 despite increased iPad shipments overall.