David Bowie's first new album in 10 years, The Next Day, is available for free streaming on iTunes, the artist announced on his Facebook page after an earlier teaser post where he told fans to "stay stuned for a surprise regarding iTunes."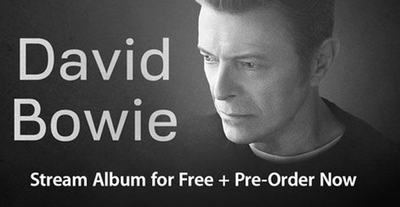 Due to be released on March 12, the streaming preview is exclusive to iTunes. Apple has occasionally offered such exclusive streaming preview in the past, as with the Red Hot Chili Peppers, Ke$ha and One Direction, working together with labels to leverage iTunes' dominant position in the digital music market.
Billboard gave the 14-track album the thumbs-up in its track-by-track review.

Bowie and producer Tony Visconti, who helped shaped his sound in the 1970s as well as produce seven T. Rex records, have struck gold in creating a work that is modern and well-connected to the artist's fabled sonic-past. No matter where Bowie takes the music -- and there are some moments where it seems headed to some off-putting territory -- he finds a melodic hook to swing on. It's an ability he used on "Low," "Heroes" and "Lodger" and that experimental trilogy from the mid- to late 1970s is as much a reference point as the earlier costumed years of "Ziggy Stardust" and "Aladdin Sane." This alchemy is almost magical.
iTunes customers can also pre-order the album for $13.99.