UK Judge Who Chastised Apple Over Samsung 'Apology' Now Consulting as Patent Expert for Samsung
A UK judge who was involved in a case in which Apple was ordered to publish a notice on its website saying that Samsung's Galaxy Tab did not copy the registered design for the iPad has been hired by Samsung as a patent expert in a separate legal battle with Ericsson, reports software patent blog FOSS Patents.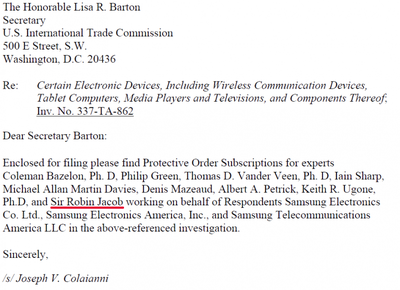 Sir Robin Jacob served on a panel of appeals court judges reviewing the case after Apple complied with the initial court order but in a rather playful manner, quoting judge Colin Birss's earlier comment that the Galaxy Tab was "not as cool" as the iPad. Sir Robin was unamused, and ordered Apple to change the notice, accusing the company of acting with a "lack of integrity".
FOSS Patents' Florian Mueller discovered that Sir Robin is now acting as a patent expert for Samsung from a mention in a letter from Samsung's legal counsel concerning the ITC investigation of a patent infringement complaint filed by Ericsson against Samsung. The blog points out that there is nothing illegal in the maneuver and expresses no doubt that the judge has acted properly at all times, but notes that the impression given is not necessarily a favorable one.
I ... have no doubt that at the time of the ruling Sir Robin Jacob was not being paid, or improperly promised to be paid, by Samsung, and he won't have had any contact with Samsung or Samsung's counsel that would have been against the rules and barred him from adjudicating the Samsung v. Apple case.

Furthermore, Sir Robin Jacob is truly an expert in patent law and there is no question that Samsung will benefit from his knowledge. That said, this just doesn't feel right. It gives the impression that a judge who deals Samsung's number one rival a huge PR blow, in a way that I found very extreme and unjustified, will be generously rewarded.
Mueller himself has found himself embroiled in a somewhat similar situation, having served as consultant to Oracle (as well as Microsoft) while also writing about the patent battle between Oracle and Google.