New Retina MacBook Pro Processor Bumps Offer Minor 3-5% Performance Improvements
Following last week's introduction of new processors for the Retina MacBook Pro lineup, Primate Labs has analyzed benchmarks coming in from the new machines through the company's popular Geekbench 2 software.
Unsurprisingly, the benchmarks reveal a roughly 3-5% increase in Geekbench scores for each of the processor bumps. For the 15-inch Retina MacBook Pro lineup, Apple bumped each of the three available processors by 100 MHz, accounting for the minor benchmark improvements.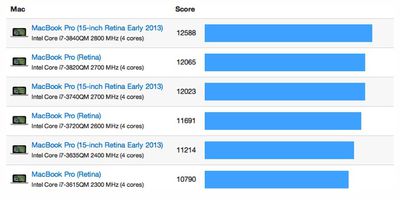 One thing to note is that the new mid-range Retina MacBook Pro has the same speed processor as the old high-end Retina MacBook Pro. However, the new mid-range model is slightly slower than the old high-end model. While this seems surprising at first, the difference is easily explained by comparing the two processors: the old high-end processor has more cache than the new mid-range processor.
For the 13-inch lineup, the 100 MHz speed bumps were limited to machines based on the high-end stock configuration starting at 256 GB of storage, with those machines also seeing a 3-5% improvement in Geekbench scores.



Aside from the processor improvements for the Retina MacBook Pro lineup, Apple also reduced pricing on the 13-inch models by $200-$300, increased RAM on the high-end 15-inch stock configuration, and reduced pricing on storage options.