Apple Updates Retina MacBook Pro with New Processors, Drops Pricing on 13-Inch Models and High-End MacBook Air
Apple today announced that it has updated its Retina MacBook Pro lineup with new processors, also moving to lower pricing across the board on the 13-inch models.
The 13-inch MacBook Pro with Retina display now starts at $1,499 for 128GB of flash, and $1,699 for a new 2.6 GHz processor and 256GB of flash. The 15-inch MacBook Pro with Retina display now features a faster 2.4 GHz quad-core processor, and the top-of-the-line 15-inch notebook comes with a new 2.7 GHz quad-core processor and 16GB of memory.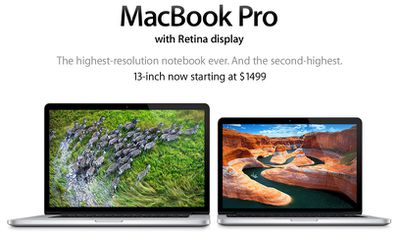 The high-end 15-inch stock configuration now has the twice the amount of RAM that it had previously and the new 13-inch Retina MacBook Pro prices are $200 and $300 cheaper than their predecessor models, respectively. Apple has also lowered pricing on SSD upgrades across the Retina MacBook Pro lineup, with the bump from 256 GB to 512 GB now costing $300 instead of $500 and the additional bump to 768 GB costing $400 instead of $500.
In addition to the Retina MacBook Pro updates, Apple has also lowered the price of the 256 GB 13-inch MacBook Air by $100, now starting at $1399.
Update: Apple has also eliminated the high-end stock configuration of the non-Retina 15-inch MacBook Pro, leaving only the base model starting at $1799. Customers can still configure the low-end model with all available options, meaning that the previous high-end configuration is still available, but it is no longer being promoted separately as a stock machine.