MLB At Bat Updated for the 2013 Season, Local Game Video Still Blacked Out
Major League Baseball has updated its MLB At Bat app for the 2013 baseball season, refining the app in several areas and adding multi-platform access for subscriptions purchased through the MLB At Bat's In-App Purchase mechanism. The app provides baseball fans with access to subscription-based live game radio and television broadcasts, MLB GameDay play-by-play service, and more.
There are several subscription levels depending on whether the user wants streaming television broadcasts, or just the radio broadcasts. The app itself, a universal app designed for both the iPhone and iPad, is a free download and offers free league-wide scoreboards and limited access to news and non-live video content from Major League Baseball.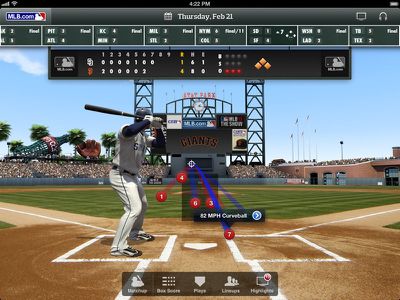 There are two main subscription packages. The high-end $130/season MLB.tv Premium offers everything: live home-and-away television broadcasts for "out-of-market" games (that is, users can't watch their local team's television coverage) as well as live game home-and-away radio broadcasts, and the ability to watch on mobile devices, PC's, the Apple TV, and consoles. Users can also watch a growing number of archived classic games. MLB.tv Premium can be purchased through the MLB website or via in-app subscription for $25/month.
The cheaper At Bat 2013 product, which is available as an in-app purchase for $20/season or $3/month, offers both home-and-away radio broadcasts with no blackout restrictions.
New for this year, subscribers who purchase MLB.tv Premium or At Bat 2013 through IAP will get to access in-game audio or TV broadcasts not only on the iPhone and iPad, but on Android devices, as well as Macs and PCs and consoles (as applicable).


MLB Advanced Media has promised more upgrades to the app before opening day at the beginning of April, and told MacRumors that the company is aware that customers would very much like to stream local games without blackout restrictions, but that the content deals to allow that are extremely complex and difficult to negotiate.
MLB At Bat is a free universal download from the App Store for iPhone and iPad. [Direct Link]