iPhone 5 and 4S Top Samsung Galaxy S III in Worldwide Smartphone Shipments in 4Q 2012
Back in November, research firm Strategy Analytics estimated that Samsung's Galaxy S III had topped the list of worldwide smartphone shipments for the third quarter of 2012, taking advantage of a lull in iPhone 4S sales ahead of the iPhone 5 launch to claim the crown.
Unsurprisingly, the firm's latest figures published today find that Apple easily reclaimed the title for the fourth quarter of the year with the iPhone 5 seeing shipments of 27.4 million units for 12.6% of the market.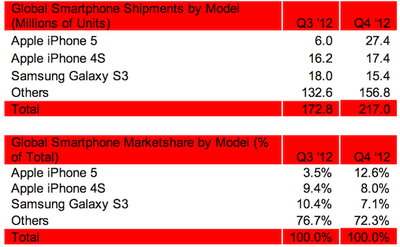 Not only did the iPhone 5 top the market, but the iPhone 4S also saw more shipments than the Galaxy S III, as shipments of the previous-generation iPhone actually saw an uptick in the fourth quarter after Apple cut pricing.
Apple's iPhone 5 and iPhone 4S together accounted for 1 in 5 of all smartphones shipped worldwide in Q4 2012. This was an impressive performance, given the iPhone portfolio's premium pricing. We estimate Samsung's Galaxy S3 was the world's third best-selling smartphone model and it shipped 15.4 million units globally, capturing 7 percent share in the fourth quarter of 2012.
Strategy Analytics' numbers are of course an estimate, given that Apple does not break down iPhone sales by model and Samsung does not even release handset shipment data.
The leapfrog game between Apple and Samsung is likely to continue when Samsung launches its new flagship handset, the Galaxy S4, which is expected on March 14.