Jonathan Ive Inspires Child Designers, Receives BBC's Gold Blue Peter Badge Amid Apple's Aluminum Milling Machines
Apple design chief Jonathan Ive has been awarded a gold badge by the BBC children's show Blue Peter, a show the British-born designer watched as a child and which encourages children to make things from ordinary household objects. Blue Peter is the world's longest-running children's television show, having been on the air for over 50 years.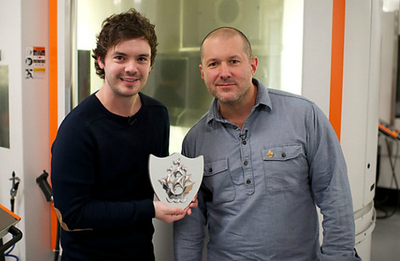 The show said that Ive was an "inspiration to children around the world". Blue Peter awards the badges to those it considers have encouraged and inspired children to develop their talents, with the gold badge awarded to Ive marking exceptional achievement.
The interview clip accompanying the BBC's article represents a rare public appearance by Ive, and it takes place in an Apple facility surrounded by equipment including a CNC machine for milling aluminum. Ive will also be featured in the half-hour Blue Peter episode airing tomorrow on CBBC.
Ive said that he had loved watching the show as a child, and described receiving the award as 'absolutely incredible'. He referenced the way the show encouraged children to make things from objects as ordinary as detergent bottles.
I loved the way there was just products that you thought were no longer useful, but reusing them. It was fantastic.
Ive in turn presented the show with a Blue Peter badge milled from a single block of aluminum, the approach famously used for the MacBook Pro.