Photos of iPhone 5 Clone Circulating as Alleged 'iPhone 5S'
Last week, a forum user at Chinese site sjbbs.zol.com.cn posted several photos (via The Times of India) of what was alleged to be the iPhone 5S in production. Despite the fact that the device is clearly an iPhone 5 clone, the photos have been widely circulating today.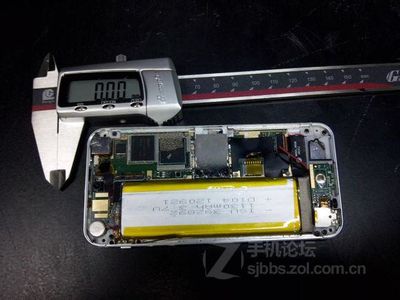 The photos show a device with an outward appearance very similar to the iPhone 5, but the internals show essentially no resemblance to an Apple-designed device. Examples of just a few of the inconsistencies include:
- A battery capacity of just 1130 mAh compared to 1440 mAh for the iPhone 5
- An apparent SD card slot
- Loose red and black wires connecting components
- A green PCB for the connector bearing no resemblance to Apple's Lightning connector


Apple has been reported to be moving forward on an iPhone 5S model that will unsurprisingly appear very similar to the iPhone 5, although the iPhone 5S is said to feature upgrades to the rear camera. Other improvements such as upgraded internals are also certain to make their way into the new model. Reports have suggested that the device could launch as soon as June or July of this year.
Steve Hemmerstoffer of French site Nowhereelse.fr tweeted a photo three days ago showing some of the obviously fake characteristics of the device: