Rabbit: A Video Sharing and Chat Service Launching on the Mac Only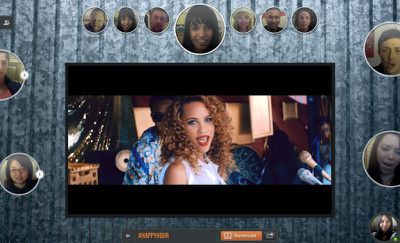 At one point in internet history, desktop instant messaging was likely the fastest growing segment of communication technologies. In 2002, even Apple introduced its own messaging client called iChat that was bundled with OS X. That growth, however, stalled significantly with the adoption of services such as SMS and devices such as the iPhone took hold over the past 5 to 10 years. Apple's own iChat has since evolved into Messages -- primarily, a mobile messaging service.

Today, a startup company called Rabbit is launching a closed beta of their "video chat and content sharing application". But the best way to describe it is a cool and very modern implementation of instant messaging.
The most compelling feature of the app can be distilled down to this: group video conferencing with the ability to screencast music, movies and applications from your Mac.
This means you can watch a movie from a service such as Netflix with your friends in real time. Or you can crop and share a specific part of your web browser or any other Mac app and broadcast it to your friends.
The app is a native Mac client (other platforms to come later), and offers the ability to video chat with an unlimited number of people. People are grouped into Rooms and presented to you in priority based on your own friends, and within each room, individual groups can participate in their own conversations.
Their promo video is clearly aimed at the teen audience, but starts by stylistically showing a user logging in, joining a room, playing/sharing a song, hovering (listening in) on a public conversation, and then joining that conversation. Later, it shows the sharing of apps and video as well as a debate on the relative strength of vampire-love.
Rabbit is launching in a "closed" Beta today. Interested users can
sign up on their website
, and beta invites will be sent out shortly. Once you are a beta user, you can then freely invite any of your Facebook friends to also become beta users. The service and download are free and requires OS X 10.7 or higher.