Staples Appears Set to Begin Selling Apple Products in U.S.
Last week, MacRumors received word that office supply retailer Staples would soon begin offering Apple products for sale. While the company has offered Apple products in international markets for some time, it had long been unsuccessful in striking a deal for the U.S. market.
We were unable to confirm the claim at the time, but 9to5Mac now reports that Apple products have begun appearing on the Staples website in the United States as part of an Apple Mock Up section. The section includes a number of products, including the Apple TV (listed at a remarkably low price of $49.99) and iPad Smart Covers, all marked with "Test" in the item description.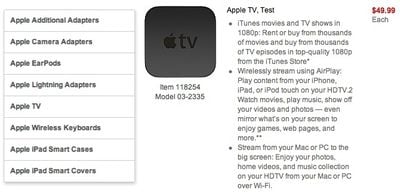 While the products listed on the test pages are limited to accessories with the exception of the Apple TV, our original source had claimed that Apple's full lineup of Macs, iPads, and at least the iPhone 5 would be coming to Staples in the United States. No specific timeframe for an official launch of Apple's products at Staples beyond "in the coming months" has been shared.