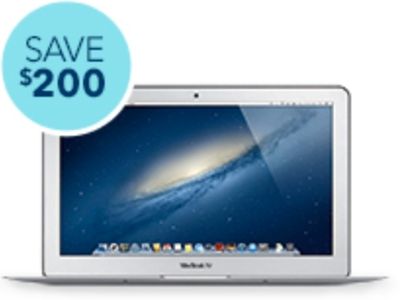 Best Buy is having a Winter Doorbuster Days sale on Friday, January 25 and Saturday, January 26, providing discounts on several products. Most notably, the retailer is offering $200 off on select MacBook Airs.
Both the 11-inch and 13-inch MacBook Air models are discounted, giving the entry level 11-inch Air with 4GB of RAM and a 64GB SSD a price tag of $799.99. The base model 13-inch MacBook Air, sporting 4GB of RAM and a 128GB SSD is $999.99.
Additional configurations with more storage space are also available, and the 13-inch MacBook Air with a 256GB SSD is $1299.99, while the 11-inch 128GB model is $899.99.
The sale is available both online and in stores, and while the 11-inch $799.99 variant is sold out online, it is possible that it is still available at retail locations.
Best Buy is also offering 30% off of all OtterBox cases and a free $20 gift card with the purchase of a 16GB iPod nano.