Apple Again The Second Most Valuable Publicly Traded Company in the World
Back in August 2011, Apple first passed Exxon Mobil as the most valuable publicly traded company in the world. Both companies have risen in value since, but Apple's recent slide has allowed Exxon Mobil to again regain its position at the top of the corporate world.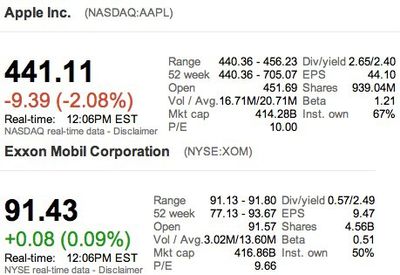 In the 17 months since Apple passed Exxon Mobil, XOM's stock is up some 27%, while AAPL has risen roughly 18%. Today, however, Apple has set a new 52-week low, while Exxon is matching its 52-week high set last September.
Currently, Apple's stock price is at $441.11 with a market capitalization of $414.28 billion. Exxon Mobil is at $91.43 with a market cap of $416.86 billion.
In Apple's most recent quarter, the company generated $13.08 billion in profit on $54.51 billion in sales, with 72,800 employees. Exxon Mobil generated $9.93 billion in profit on $115.71 billion in revenue with 82,100 employees.