Apple Closes as the Most Valuable Company in the World
Apple passed ExxonMobil as the most-valuable publicly traded company several times yesterday, but ExxonMobil ended the day ahead of Apple. Both companies' stock prices were down today, but XOM fell quite a bit farther, making Apple the most valuable public company in the world.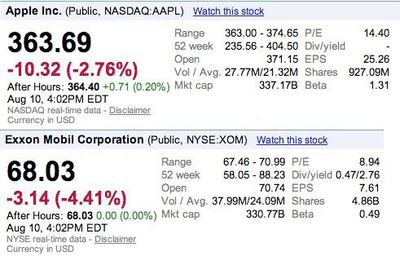 Apple closed the day at $363.49, with a market cap of $337.17 billion. Exxon Mobil ended at $68.03, with the company valued at $330.88 billion.
Apple might be worth more than Exxon Mobil, but XOM remains a much bigger company. Exxon made $10.7 billion in profit on $121.4 billion in revenue in the June quarter with 83,600 employees.
Apple made $7.3 billion on $28.6 billion in revenue with 46,600 employees last quarter.