Apple Stock Down 10% in After Hours Trading Amidst Concerns of Flat Growth
After reporting record-breaking quarterly revenue and profit earlier today, Apple's stock has taken a 10% tumble in after hours trading. Apple posted a $13.1 billion profit for the quarter this year compared to a $13.06 billion profit in the same quarter of last year, yielding flat growth year over year.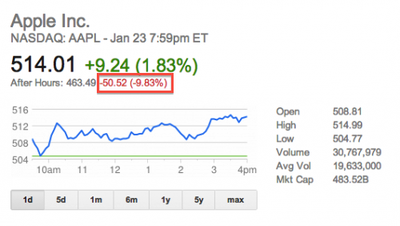 The flat growth, as pointed out by Apple, is largely because manufacturing costs have risen, even as revenue has risen 18%. The New York Times notes that analysts were worried that about Apple's profit margins, even after Apple warned that a significant overhaul of its product line would mean high manufacturing costs in the early lives of the products.
The results arrived with an unusual level of anticipation, even for a company as high-profile as Apple, because of anxiety among some investors about Apple's ability to sustain its growth and create new hit products. Apple's stock has lost about a quarter of its value since September, erasing more than $170 billion of its market value.
Business Insider notes that even though Apple's holiday quarter in 2012 had a week less than it did in 2011 that sales growth still wouldn't be at the point that it was.
Apple's 10% stock decline gives it a current market cap of $463.49 billion and a loss of nearly $50 billion in market capitalization from worried investors. Despite analysts' and investors' worries of year-over-year growth, The Wall Street Journal's Tom Gara notes that Apple's losses in market cap today were roughly equal the value of two Research in Motions and two Nokias.