Facebook Messenger Now Supports Voice Calling for U.S. Accounts
Earlier this month, Facebook updated its Messenger iOS app with beta support for making VoIP calls between Facebook accounts. That feature was initially limited to Canadian iOS accounts but is now being opened to all U.S. accounts, reports The Verge.
To access voice calling, open the Facebook Messenger app, open a chat with someone, and click the 'i' button in the top right corner. If the feature has been activated -- and the other user also has Facebook Messenger for iOS installed -- there should be a "Free Call" button. If it's greyed out, try tapping it anyway. Facebook is rolling out the feature to all users over the next several days.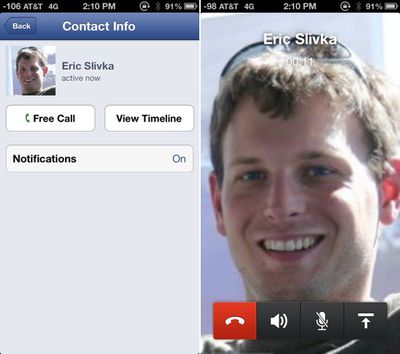 What this means is that if you live in the US, you can now call other Facebook users for free over Wi-Fi or using your phone's data connection while you're on the go. When you call someone, a push notification appears on their screen that says "Ellis Hamburger is calling," for example. The feature is especially critical for people with bad cell service at work or at home, and for those who want to conserve cell phone minutes. It's also a huge step for Facebook — which with a single feature emerges as one of the largest communities of VoIP users in the world. Yes, competitors Viber, Vonage, and Skype have had the feature for some time, but all have much smaller user bases.
Facebook's efforts create a calling system that can potentially reach its more than 1 billion users, providing a massive competition to other VoIP services like Skype, as well as allowing teenagers using iPod touch devices to make phone calls to friends using Facebook's app.
Facebook Messenger for the iPhone is a free download from the App Store. [Direct Link]