CES 2013: Liquipel Announces 2.0 Watersafe Nanocoating For Waterproofing Devices
Water-resistant nanocoating has been around for some time now, but Santa Ana-based company Liquipel has debuted a more effective version, Liquipel 2.0, which it says is up to 100 times more effective than the watersafe nanocoating it first introduced at CES 2012.
Liquipel's product is designed to protect electronic devices from water damage, adding a vapor-applied water resistant coating that does not compromise the performance of the device.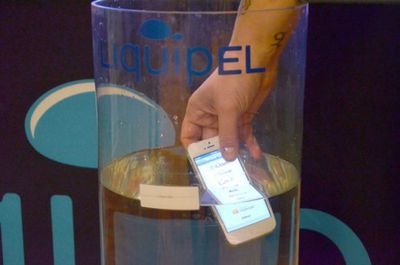 According to Liquipel's Managing Director Sam Winkler, who spoke to Engadget, a device that is treated with the new version of Liquipel is able to achieve a water resistance rating of IPX7, which means the device can be submerged in a meter of water for 30 minutes.
Though Liquipel did not previously offer a warranty for treated electronics and some users had experienced issues with devices treated with original Liquipel formula not surviving liquid exposure, the company announced its Liquipel Performance Guarantee at CES. The new warranty, which currently covers only U.S. customers but should be extended to other countries in the future, offers protection from damage due to accidental liquid exposure on Liquipel-treated devices.
The coverage excludes intentional submerging of devices in liquid. However, everyday life events that can cause liquid damage will be covered, such as: rain, splashing, sweat, dropping in the sink or toilet and spilled drinks.
Liquipel's nanocoating operation has also gone portable with its new "Liquipods," 4x4 foot boxes that can be leased by shops who want to offer the Liquipel treatment.
TechCrunch reports that Liquipel is also opening its own retail locations, beginning with an inaugural store at the West Edmonton Mall in Canada this February.
Liquipel currently
offers an online service
, where customers can ship devices to be professionally coated by Liquipel itself, with prices starting at $59.