HzO 'Talking to Apple' About Water Blocking Technology for Future iPhones
Pocket-lint reports that Utah company HzO, which was showing off its "WaterBlock" technology for providing water resistance to mobile devices at last week's CES, has said it is talking to Apple about the possibility of including the technology in future iPhones and other devices. Samsung is also reportedly "excited" by the technology.
"We showed the Samsung Chairman the technology with a Samsung Galaxy S that we had coated with HZO and he couldn't believe his eyes," a representative of the company told us. "Samsung is really excited by the tech."

The company has told us that they are also talking to Apple as well, hoping to be able to let Apple make the iPhone 5 waterproof.

"We expect HZO to be in next season's phones," HZO told Pocket-lint rather confidently.
The WaterBlock technology, which consists of a coating applied to interior device components to help them resist water damage, is performed during the manufacturing process and is invisible to the user.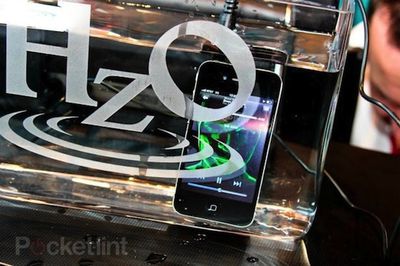 It is difficult to know how serious the company's discussions with Apple are, and any substantial conversations would almost certainly be subject to non-disclosure arrangements. In addition, expo floor exhibitors are of course primarily interested in promoting their products, and any mention of discussions of partnerships with major companies is a good way to generate publicity.
Consequently, it is impossible to put any measure of weight on speculation that Apple might adopt HzO technology, but it does appear to be an interesting possibility for mobile device manufacturers seeking to improve the durability of their products.