Griffin yesterday announced (via Engadget) the forthcoming launch of its PowerDock 5, a $99.99 charging station that organizes up to five iOS devices in the space otherwise taken up by one iPad laid flat.
PowerDock 5 is the ultimate space-saving, countertop charging and storage solution for up to 5 iPads. Designed for convenience and efficiency, PowerDock 5 contains five charging bays large enough to accommodate an iPad encased in even the largest of cases, including Griffin's own Survivor case. When not in use, PowerDock 5 keeps all the users' device cables tucked away and organized, ready for use at any time.
The PowerDock 5 will launch later this spring.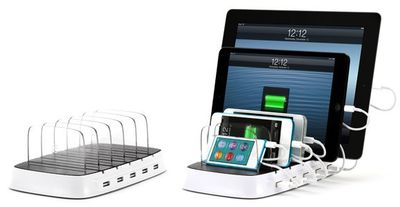 Griffin PowerDock 5
Griffin is also introducing several other charging accessories at CES, including the
PowerBlock wall charger
($29.99) and
PowerJolt car charger
($24.99). Both devices include Griffin's new "ChargeSensor" technology that automatically senses a device's power profile and charges the device accordingly.
All mobile devices have specific charging profiles that dictate how much, and how quickly, they can charge. Most chargers are designed with a one-size-fits-all approach which typically does not support the requirements of each individual device. Griffin's new ChargeSensor technology senses the requirements of any device plugged into it, providing optimal charging for all USB-chargeable devices.
Both the PowerBlock and PowerJolt will also be launching in the spring.