CES 2013: COOKOO Watch Brings 'Bluetooth Smart' Connectivity to iOS Devices
One of the technologies that we've been looking forward to becoming more prevalent in iOS accessories is the incorporation of low-power Bluetooth 4.0, now known as Bluetooth Smart. The technology allows for low-power long term connectivity between your iOS devices and your accessories. Kickstarter-backed e-paper Pebble watch was one example that generated an enormous amount of interest with over $10 million in pre-sales.
ConnecteDevice today announced the worldwide launch of their COOKOO watch which also begin life as life as a KickStarter project.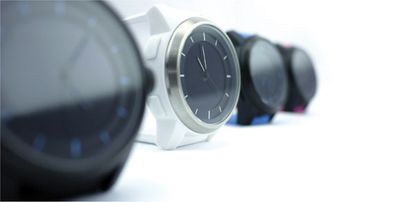 The company describes the watch as a designer watch that combines analog movement with a connected digital display. By using a freely available app, users can pick and choose which notifications that appear on their watch.
The watch can display notifications for:
- Incoming Calls
- Missed Calls
- Facebook Messages and Posts
- Calendar Reminders
- When a Smart Device (iPhone, iPad, etc..) is out of range
- When a Smart Device (iPhone, iPad, etc..) is low on Battery
It also has a customizable command button which can find your phone, snap a photo, check-in to Facebook or tag your location on a map.
The watch uses a standard button-cell battery that will last up to one year. It is scratch resistant and water resistant. COOKOO supports the iPhone 5, iPhone 4S, iPad mini, iPad (4th & 3rd generation), and iPod touch (5th generation). The watch is priced at
$129
in 5 different colors.
ConnecteDevice says the watch is shipping now and they will be showing it at CES 2013. Based on comments by early Kickstarter backers, it seems there are some dropped-connectivity complaints with the first version of the software that the company says they are addressing in an upcoming update.