Bluetooth 4.0 Becomes 'Bluetooth Smart' as iPhone 4S Creates New Opportunities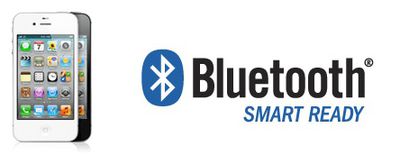 Following the debut of the iPhone 4S as the first phone to support the Bluetooth 4.0 standard, the Bluetooth Special Interest Group (SIG) has begun promoting the technology under the new "Bluetooth Smart" marketing term. In a press release issued today, the Bluetooth SIG outlined the types of devices that will fall into the Bluetooth Smart categories.
The Bluetooth Special Interest Group (SIG) announced two new brand extensions to its globally recognized logo today in an effort to create consumer awareness around compatibility for new devices implementing Bluetooth v4.0 – the Bluetooth Smart Ready trademark and the Bluetooth Smart trademark. Bluetooth Smart Ready devices are phones, tablets, PCs and TVs that sit at the center of a consumer's connected world and implement a Bluetooth v4.0 dual mode radio. Bluetooth Smart devices are sensor-type devices like heart-rate monitors or pedometers that run on button-cell batteries and were built to collect a specific piece of information. Bluetooth Smart devices include only a single-mode low energy Bluetooth v4.0 radio.
Bluetooth Smart has been promised as a way to allow devices to interact wirelessly using low-power standards, enabling countless new potential uses.
Bluetooth Smart devices are designed to gather a specific type of information—are all the windows on my house locked, what is my insulin level, how much do I weigh today?—and send it to a Bluetooth Smart Ready device.

Examples include heart-rate monitors, blood-glucose meters, smart watches, window and door security sensors, key fobs for your car, and blood-pressure cuffs—the opportunities are endless.
While the iPhone 4S is not yet able to make extensive use of the features specific to Bluetooth Smart due to a lack of peripheral single-mode Smart devices capable of transmitting data to the iPhone, it is clear the Bluetooth standards bearers and manufacturers will be quickly pushing forward to promote the adoption of Smart technology in a host of new product categories.
Beyond the iPhone 4S, Apple has also been building Bluetooth 4.0 support into several of its latest Mac lines, including the Mac mini and MacBook Air introduced back in July. Notably, today's MacBook Pro update did not bring Bluetooth 4.0 support to that line, although the update was an extremely minor one that Apple is not even acknowledging as a refresh on its promotional product pages. Consequently, the update appears to have been limited to core "plug-and-play" features such as CPU, GPU, and hard drives that could be easily upgraded rather than features like new Bluetooth 4.0 capabilities that could require more significant engineering work.